New art featured at Red Panda Love
Loves me a red panda
What resembles a raccoon, likes rainforests, and is 110% cute? Red pandas!
Red pandas are only my favourite kind of panda. Giant pandas are adorable, but it's the ginger one that I like the most. I met my first red panda at the Calgary Zoo, and i have returned many times to see the little cuties.
I like red pandas so much that I've built a website paying tribute to them – Red Panda Love. Feel free to check it out and learn more about this endangered species. And soak up the cuteness.
Since I love red pandas so much, why not illustrate them? Which brings me to the subject of this post. I created a fun illustration that I think captures the adorable spirit of red pandas.
This design is becoming popular on Zazzle, especially on children's clothing. Something sweet for your sweeties! You can see this design and others over at Red Panda Love Shirts for Kids
Now let's look at more photos. I saw these cuties at the San Diego Zoo.
And here is another t-shirt I designed, to celebrate the Red Panda Love website itself.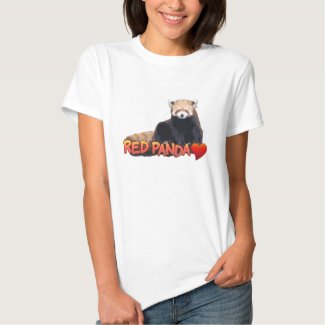 They're adorable but I think they're actually hard to photograph. When they're awake, they prowl all over their habitat and don't stand still. It takes patience to capture a shot like this one.